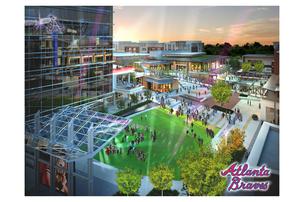 At Major League Baseball's Winter Meetings this week in San Diego, rumors swirled about the future of the Atlanta Braves lineup and possible trades with San Francisco and others.
But, Giants execs also wanted to talk to the Braves about something else: the more than 1-million-square foot mixed-use development next to SunTrust Park in Cobb County. On the right, Check out a SLIDESHOW of the plans with FIVE NEW RENDERINGS you can only see at Atlanta Business Chronicle.
The Giants are naturally inquisitive. The team is developing a $1.6 billion project next to its AT&T Park.