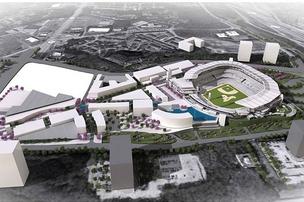 The Atlanta Braves have picked their development partners for a 74-acre mixed-use project connected to their new Cobb County ballpark.
In an interview Tuesday with Atlanta Business Chronicle, Braves officials said Atlanta-based companies Fuqua Development LLC, Pope & Land Enterprises, and Pollack Shores Real Estate Group will partner on the $400 million project.
The news doesn't come as a huge surprise, considering the other finalist, a team including Hines and North American Properties, pulled out of consideration this spring.
Leasing efforts are well under way. Earlier this year, representatives for the Braves showed concepts at the International Council of Shopping Centers annual retail convention in Las Vegas.